In 1966 I was pulled to San Francisco like metal to a magnet. Finding others like me, we were a force, an energy. We explored the frontiers of consciousness... truly believing that our newfound awareness would alleviate the masses from their suffering.
After five months in the city, I moved back to Stockton, where I became involved with the Stockville Light Express - a simple production company, that handled every aspect of staging a dance-concert-lightshow. I was trying new things besides the mirrored wastebasket on a turntable-light bouncing-effect. Sometimes I brought a fish-bowl and projected live goldfish on the wall! Upside-down, but still interesting. My bubble machine was really trippy under the strobe light - especially the slippery spot - oops. I built a portable stagelight system with a keyboard out of of coffee cans, wood, nails, and heavy wire. As our shows improved, we generated support from the local young people. By late spring of 1967, we realized that the show belonged in San Francisco. Especially since so many of our supporters were moving there. That summer, we rediscovered San Francisco, and in early October, my partner, Brian Eppes and I brought our equipment to Straight Theatre and jammed with other light artists.
We joined forces with Mark Maxman who also had some projectors from his recently dissolved partnership with North American Ibis Alchemical Company, a regular lightshow at the Avalon. We were called
Aerial Transit
for the 10-20-67
Work It Out Show
. Although we had chosen the name Brotherhood of Light, by the 11-11-67
Something Happening in Sebastapol
show, the poster artist hadn't found out and the bill was for a
Spectacular Lightshow
. It wasn't as spectacular as we would have liked, because of frequent power outages due to our massive electrical needs. This is a picture of the 3 founding members of the Brotherhood of Light taken just after the Sebastapol show.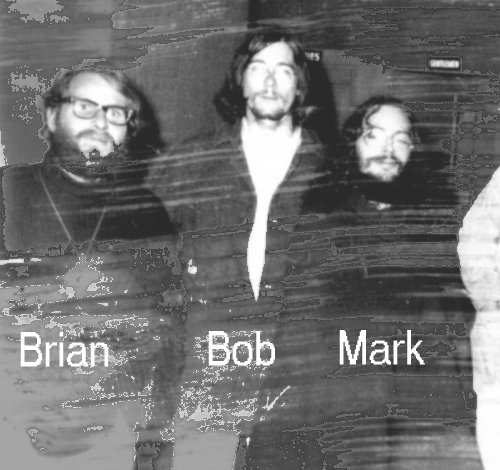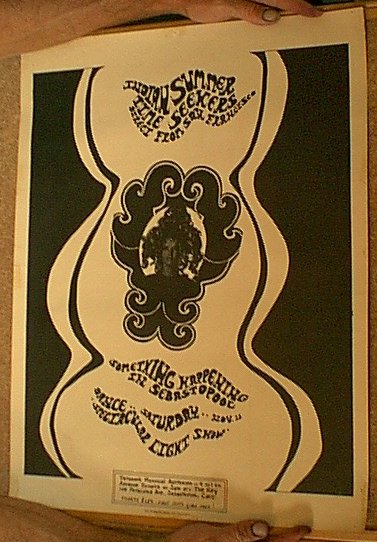 The lightshow just kept getting better. We souped up our projectors to higher wattage for more brightness thereby requiring more cooling fans. We would gently dim on our projectors to full power for smoother effects. The images were clear and colorful, in rhythm with the music. Straight Theatre was a great place to do lightshows. The huge projection screens behind the stage and on both sides provided over 1000 square feet of precious white nothingness upon which we projected our bright colors and swirling shapes. Shooting from the edge of the balcony the screens were only about 50' away, so the images were bright and powerful. On more than one occasion I remember setting up projectors on the theatre roof and projecting our colors onto nearby buildings and crowds of people dancing in the street. At that time the vibes in the Haight were still beautiful, but changing.
After several months at Straight Theatre we started looking at other places to do shows. In May, 1968, we were in the Avalon for the Spring Medicine Show and shortly thereafter we were "House Lightshow" for the Carousel Ballroom. That only lasted a few weeks though when the Carousel went out of business and was re-inhabited by Bill Graham as Fillmore West. At that time we found work at the Family Dog on the Great Highway for a few weeks. I remember watching the first moonlanding there on a TV someone had brought in.
An audition weekend for Bill Graham with the Grateful Dead and the unforgettable Preservation Hall Jazz Band landed steady employment at Fillmore West. With a library of hundreds of original slides we projected on screens nearly 100' away with up to 16 slide projectors and as many as 6 overhead projectors, all with motorized color wheels and master speed control. Sometimes as many as three 16mm movie projectors would be running as well as our revolving prism. The subject matter ranged from the full spectrum of nature photography to colorful optical illusion shapes and designs, with special effects between, all moving to the music. Repairing projectors and developing ideas in the darkroom took most of my time, but I loved doing it so much that it didn't matter that we were underpaid. Throughout my 2 years with Bill, he would occasionally bring a star up to the light booth. Once he brought Chuck Berry who hugged me and told me to never stop doing Lightshows.
I continued doing lightshows at the Fillmore until June, 1970. My partners had moved to Mexico and that summer I was given the opportunity to have full creative control of the lightshow at a hall called Pepperland in Marin County. Myself and several others invested several weeks of time and hard work to get this ballroom together. After less than a year, the promoters split with the last big box office. Some of us stayed and tried to reopen it, but it was officially dead before winter of 1971.
I returned to Stockton, completed 2 years of community college, and created an alfalfa sprout farm which also featured wheat grass and sunflower greens. I was known as
Farmer Bob
back then. It was successful for seven years until the profit margin vanished.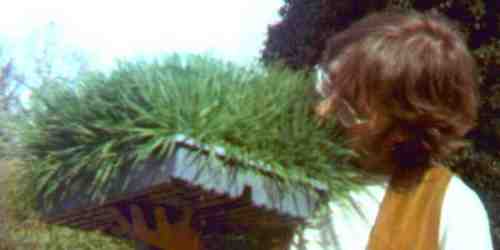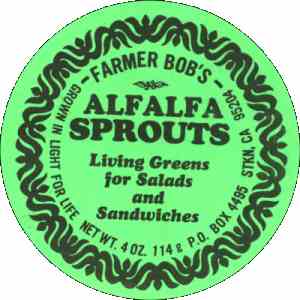 I did occasional lightshows in Stockton throughout the 70's. One memorable experience was a small meditative lightshow I did with Ram Dass as the speaker. He gave me a big hug and told me to always do lightshows.
In the early 80's, I moved to Maui, where I was a freelance gardener. The 90's saw me on the Big Island of Hawaii, as a farmworker living paycheck to paycheck, and by 1999, with my head about to pop from artistic frustration, I realized that with eBay's help, vintage poster sales could finance my return to lightshow art.
My good friend Airin Corbin is my partner in this chapter of the Brotherhood of Light saga. Airin has both an artistic instinct and a natural talent with pictures which when combined with his vast computer skills makes him a valuable ally in the development of this art form. It is interesting to note that Airin is 20, I was 19 when I co-founded Brotherhood of Light. Througout the 80's and 90's I did an occasional lightshow, but it has been over 30 years since I have been able to reach such a large audience.
We will do our best to keep you supplied with affordable collectable fine lightshow art.
I love these posters. For more than 30 years, I have loved these posters. But I love lightshow art more. I see these poster sales as an opportunity to preserve and advance lightshow art to it's well deserved status as a fine art form. I am willing to sell every last poster I have if necessary to revive this form of art. That may not be necessary if I get enough support from others who also appreciate this art. I want to share this art form with you, the people who love these posters. Utilizing the medium of photographic collage I intend to provide you with actual photographic quality images in sharp clear detail, the colors and shapes that are created by the lightshow.